The XVI U.B.I. Congress
Arco (Trento), 4-6 May 2012
The XVI National U.B.I.Congress
Testi e foto di Daniela Schifano
Per la quarta volta, la manifestazione Arcobonsai, organizzata dall'Arcobonsai Club Garda Trentino, ha ospitato il Congresso Nazionale U.B.I. : dall'unione dei due convegni è nata una manifestazione ricca di eventi, dai numeri imponenti.
Più di 100 i bonsai esposti, circa 50 spazi commerciali, una area congressuale ben organizzata che ha permesso di partecipare a workshop bonsai, conferenze ed una dimostrazione dal vivo sulla creazione di un vaso da bonsai, tenuta da Tiberio Gracco.
Il Salone delle Feste dell'ottocentesco Casinò Municipale di Arco ha ospitato i bonsai in mostra, mentre i suiseki sono stati esposti in una saletta a loro riservata.
Nel corso della manifestazione è stato presentato il libro di Silvia Orsi sull'uso delle piante spontanee per la creazione di Shitakusa e Kusamono.
I suiseki iscritti erano nove, quindi sono stati tutti ammessi a catalogo. Due non erano selezionabili per i premi U.B.I. in quanto esposti dal vicepresidente U.B.I. Marino Nikpal e dal giudice U.B.I. Ezio Piovanelli, istruttore I.B.S., ma sono stati ammessi alla assegnazione delle Targhe I.B.S. e A.I.A.S., ad opera rispettivamente dei giudici Luciana Queirolo, presidente A.I.A.S., ed Angelo Attinà, istruttore I.B.S..
Nella giornata della domenica, gli appassionati dell'arte dei suiseki hanno potuto assistere alla conferenza di Luciana Queirolo sulla esposizione su vassoio (suiban oppure doban) di una pietra, conferenza ricca di informazioni preziose e corredata da numerose immagini di esempio. Dall'evoluzione della esposizione, dagli esempi più antichi fino ai giorni nostri, alle forme ed i colori dei vassoi, dal posizionamento della pietra alle dimensioni e alle proporzioni, per finire con il colore e la granulometria della sabbia, nessuno argomento è stato tralasciato.
L'arriverderci è per la prossima edizione del Congresso U.B.I., che si terrà a Vieste nell'Aprile 2013, organizzata dal Daunia Bonsai Club di Foggia in collaborazione con il Bonsai Club Primo Cielo di Acquaviva delle Fonti di Bari.
The suiseki admitted to the Catalogue :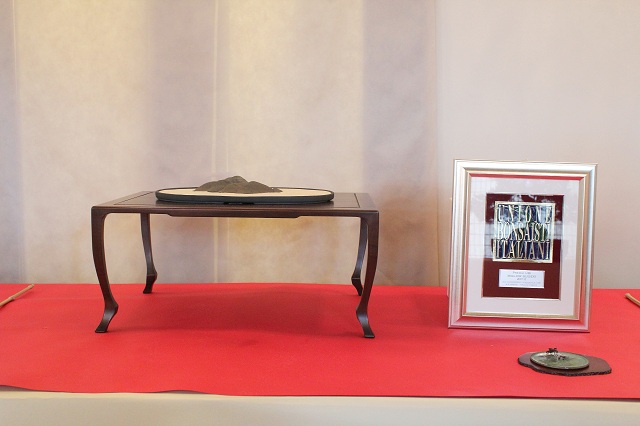 U.B.I. Suiseki Award 2012
"Eneepah, mirage island"
Landscape Stone - Liguria
Mr. Carlo Scafuri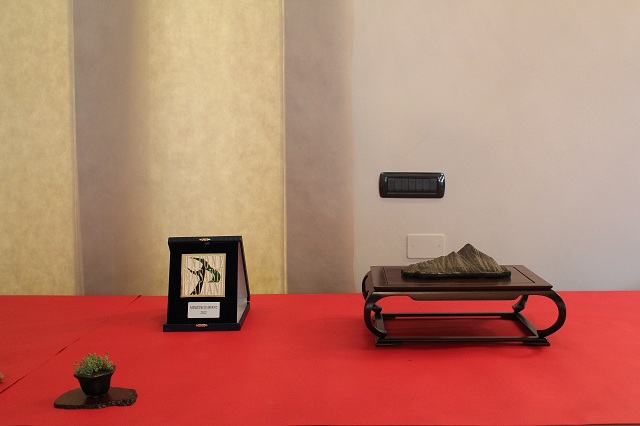 U.B.I. Mention of Merit
Mr. Angelo Attinà
"Montagna a due picchi"
Landscape Stone - Liguria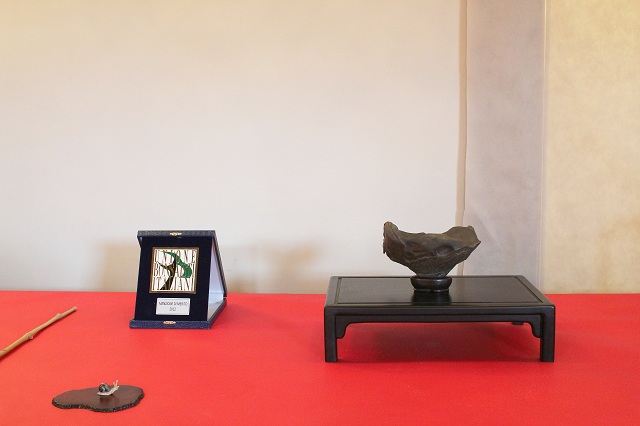 U.B.I. Mention of Merit
Mr. Filippo Lanfranchi
"Lake"
Landscape Stone - Liguria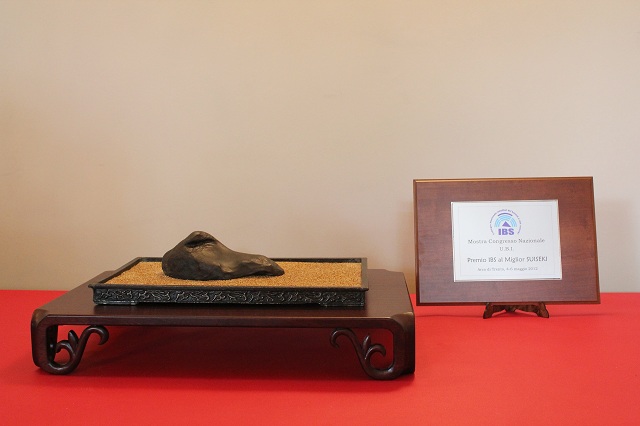 I.B.S. Plaque
Mrs. Daniela Schifano
"Perenne attesa"
Landscape Stone - Liguria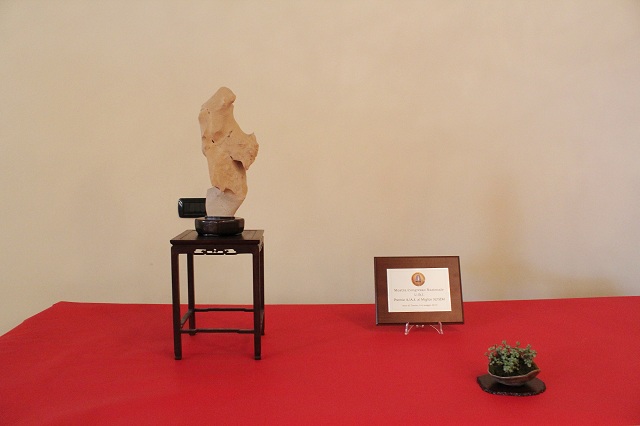 A.I.A.S.
Plaque
Mr. Marino Nikpal
"Madame"
Object Stone - Dalmatia
Out of contest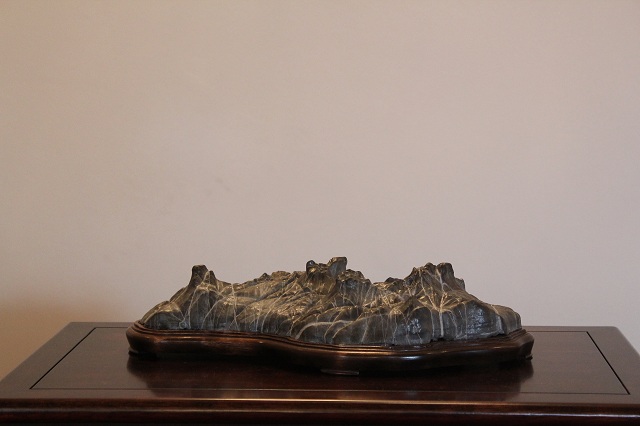 Amatori Bonsai e Suiseki Genova Club
"Island"
Landscape Stone - Liguria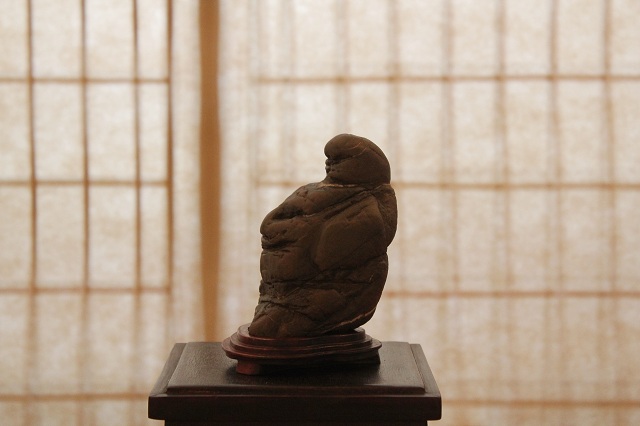 Mr. Antonio Marino
"Buddha"
Object Stone - Calabria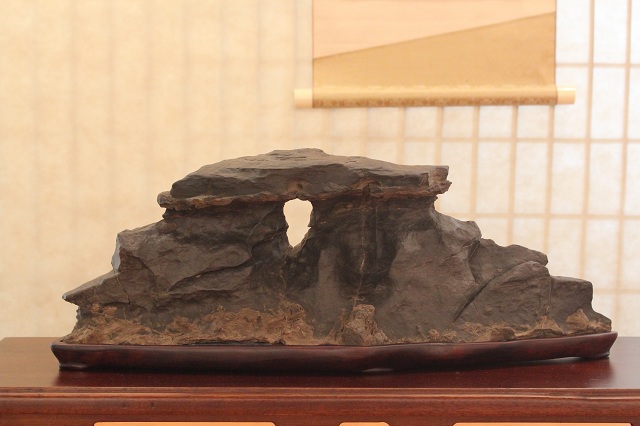 Mr. Ezio Piovanelli
"La porta del cielo"
Landscape Stone - Lombardia
Out of contest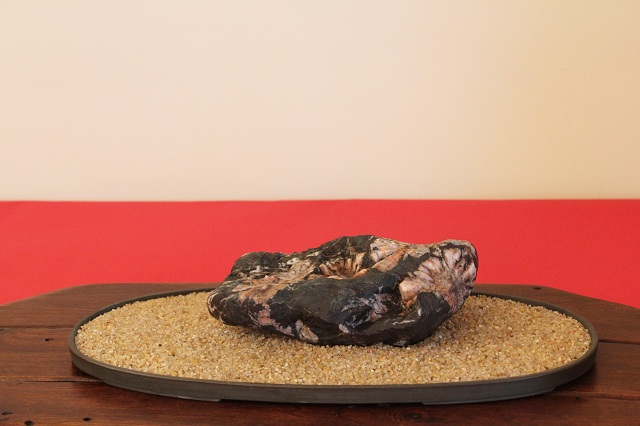 Mrs. Luciana Queirolo
New Kikka-seki
Pool Stone - Japan
»