2017 Meihinten (Courtesy of Jeff Amas and Chris Cochrane) - Photos by Jeff Amas
From: http://www.aias-suiseki.it/it/MostraMeihinten2013
"The
Nippon Suiseki Association
, founded in May 1961, held the first Nippon Suiseki Meihinten Exhibition in July that same year.
Since 2009, thanks to Jeff Amas's photographic and commentary work, the Internet Bonsai Association publishes a large account of the stones on display.
In 2010, the Nippon Suiseki Association celebrated the 50th Meihinten Exhibition by exhibiting the best Meiseki of its members. During the event, Mr. Matsuura was able to announce his withdrawal from the Presidency (Chairman of the Association) after over 20 years of active presence, accepting the role of Honorary Vice President and proposing to remain active in the Association "

Nippon Suiseki Meihinten 2017 (57th) :
Courtesy of Jeff Amas and Chris Cochrane
Photos by Jeff Amas
Chris Cochrane:
Jeff Amas sends photos of the 57th Nippon Suiseki Meihinten mounted at the Meiji Shrine in Tokyo earlier this month.
Jeff Amas wrote:"... this year people are taking more risks with the display in terms of colors and surfaces. In the books... (Japan Suiseki Exhibition books of exhibitions at Tokyo's Metropolitan Museum/CMC)... suiseki have just been placed against a neutral white background. While this allows us to just concentrate on the stone itself it doesn't show us how the owner may in fact present the stone. I think this actually quite an interesting talking point. Certainly the aesthetic response is quite different in each case."
The AIAS is grateful to his friend and supporter, Chris Cochrane, and the generous contribution of Jeff Amas, through which every year we can draw information and teaching to expand the understanding of this Art that we love so much.
Mrs. Luciana Queirolo
Abegawa ishi
29 x 24 x 24

Hakkaizan seki

23 x 18 x 27

Bonseki
27.5 x 18.5 x 17
Fujigawa ishi
21 x 11 x 9
Furuya ishi
47.5 x 27 x 24


Furuya ishi
16.5 x 13 x 14
Furuya ishi
15.5 x 11 x 10
Hakkaizan seki
15 x 10.5 x 4.5
Hakkaizan seki
21 x 15 x 15.5
Kamogawa ishi
12 x 20 x 28
Kamogawa ishi
25 x 19 x 16
Kamogawa ishi
14 x 10 x 9
Kamogawa ishi
29 x 18 x 9.5
Kamogawa ishi
29.5 x 16 x 12
Kamogawa ishi
17.5 x 9 x 12
Kamogawa ishi
21 x 15 x 15
Kamogawa maguro ishi
11.5 x 6.5 x 3.5
Kamogawa maguro ishi
27.5 x 18 x 6
Kamuikotan ishi
20 x 10 x 5
Kamuikotan ishi
25 x 12.5 x 6.5
Kamuikotan ishi - Sadoakadama ishi
5.5 x 8 x 5 - 8.5 x 7.5 x 5
Kamuikotan ishi
14 x 12 x 5
Kifune ishi
17 x 14 x 34
Kurama ishi
40 x 29 x 24
Murasaki Kifune ishi
33 x 15 x 15
Sado akadama ishi
26 x 15 x 5
Sado kidama ishi
20.5 x 14 x 15
Sajigawa ishi
28 x 16 x 6
Sajigawa ishi
66 x 22 x 17
Sajigawa ishi
30 x 24.5 x 30.5
Sajigawa ishi
17 x 8 x 15.5
Sajigawa ishi
17 x 11 x 20
Sakawagawa ishi
22 x 7 x 21
Seigaku ishi
66 x 32 x 17
Senbutsu ishi
42.5 x 24 x 53
Setagawa ishi
26 x 7 x 6.5
Setagawa tora ishi
26 x 17.5 x 4
Setagawa tora ishi
49 x 29 x 35.5
Setagawa yomogi ishi
29 x 13 x 23
Taihu stone
65 x 41 x 20
Takasuzusan seki
62 x 13.5 x 7.5
Tamagawa ishi
17 x 11 x 6
Tanba shiun seki
66 x 23 x 25
Tanba shiun seki
16 x 9.5 x 6
Tenryu Maguro ishi
22 x 16 x 22
Tenryugawa ishi
46 x 26 x 13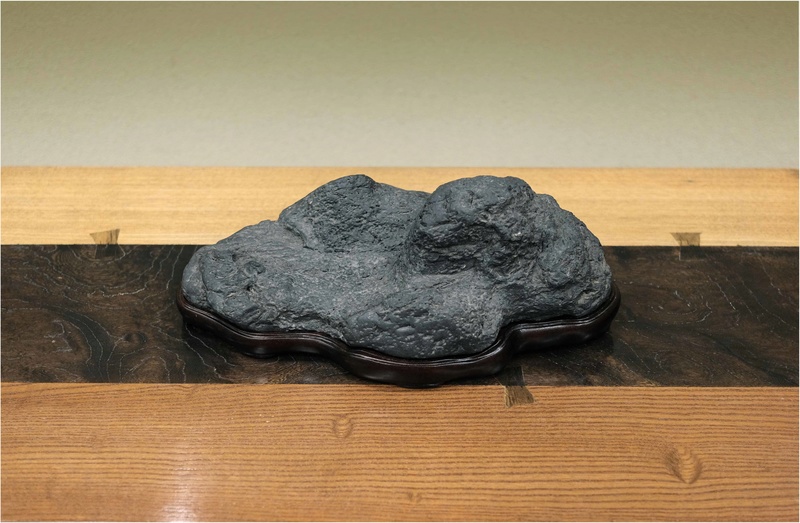 Yase sudachi maguro ishi
26 x 12.5 x 10
The other suiseki in display
Abegawa shiko seki
30 x 19 x 16
Bonseki
10 x 6.5 x 6.5
displ
Furuya ishi
17 x 3.5 x 5
Furuya ishi
12.5 x 10 x 38
Furuya ishi
7 x 3.5 x 9
Hakkaizan seki
17.5 x 12 x 15.5
Kamogawa ishi
16.5 x 17 x 7
Kamuikotan ishi
70 x 60 x 25
Kifune sudachi maguro ishi
28 x 17 x 8
Kotaro ishi
60 x 28 x 17
Kurama ishi
31.5 x 13 x 9
Sado akadama ishi
46 x 22 x 18
Sado aodama ishi
18 x 11 x 19
Sajigawa ishi
59 x 25 x 10
Sajigawa ishi
22 x 8 x 6
Setagawa ishi
46 x 29 x 17
Setagawa nashiji ishi
32 x 9 x 6
Ubusan ishi
17 x 13 x 14
»