The images of the congress A.I.A.S. 2003
September 13th-14th 2003
Carmagnola (Turin). The club Bonsainsieme renewed the availability to give us hospitality. The 6th edition of the Annual A.I.A.S. Congress was placed side by side, as on the year 2000, to the exhibition of Bonsai and Suiseki of Bonsainsieme Club's members and of the Region Coordination,and the event, as usually, produced a wide public partecipation.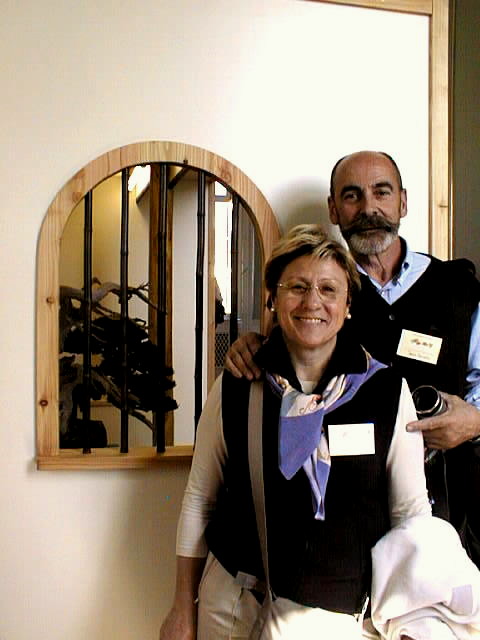 Mrs. Maria Rosa Bonet e Mr. Jesus Revuelta: the most competent and trained couple of the spanish suiseki, honoured us taking part to the Event with the discerning judgement and a very pleasant lecture.
Welcome tokonoma at the entrance of the Suiseki section : a Biseki of Mr. Marco Favero

The AIAS Trophy 2003 to the Lanscape stone

"Red sunset" of Mr. Claudio Villa
The AIAS Trophy 2003
was assigned to a landscape stone of
Mr.
Claudio Villa

: "
Red sunset"; the matter's features of this specimen (hardness and iron percentage, dark color, quick acquisition of the patina ….) will a recurrent presence in the next years : in facts , since the year 2000, a group of enthusiasts from Romagna joins the Aias and , with them, this typical material, a geological transition between the "palombino" stone and "sandstone", is collected in the Ligurian-Emilian Apennine area : an "hunting reserve" of very.. secret location.
The suiseki classified to the first place in the other Categories :
The 1st prize for the Category "Landscape Stones" to

Mr. Carlo Laghi

The 1st prize for the Category "Shelves" to

Mr. ClaudioVilla
The 1st prize for the Category "Object Stones" to

Mr. Marco Favero

The 1st prize for the Category "Pattern Stones" to
The 1st prize for the Category "Abstract Stones" to

Mr. Renzo Rabitti
»